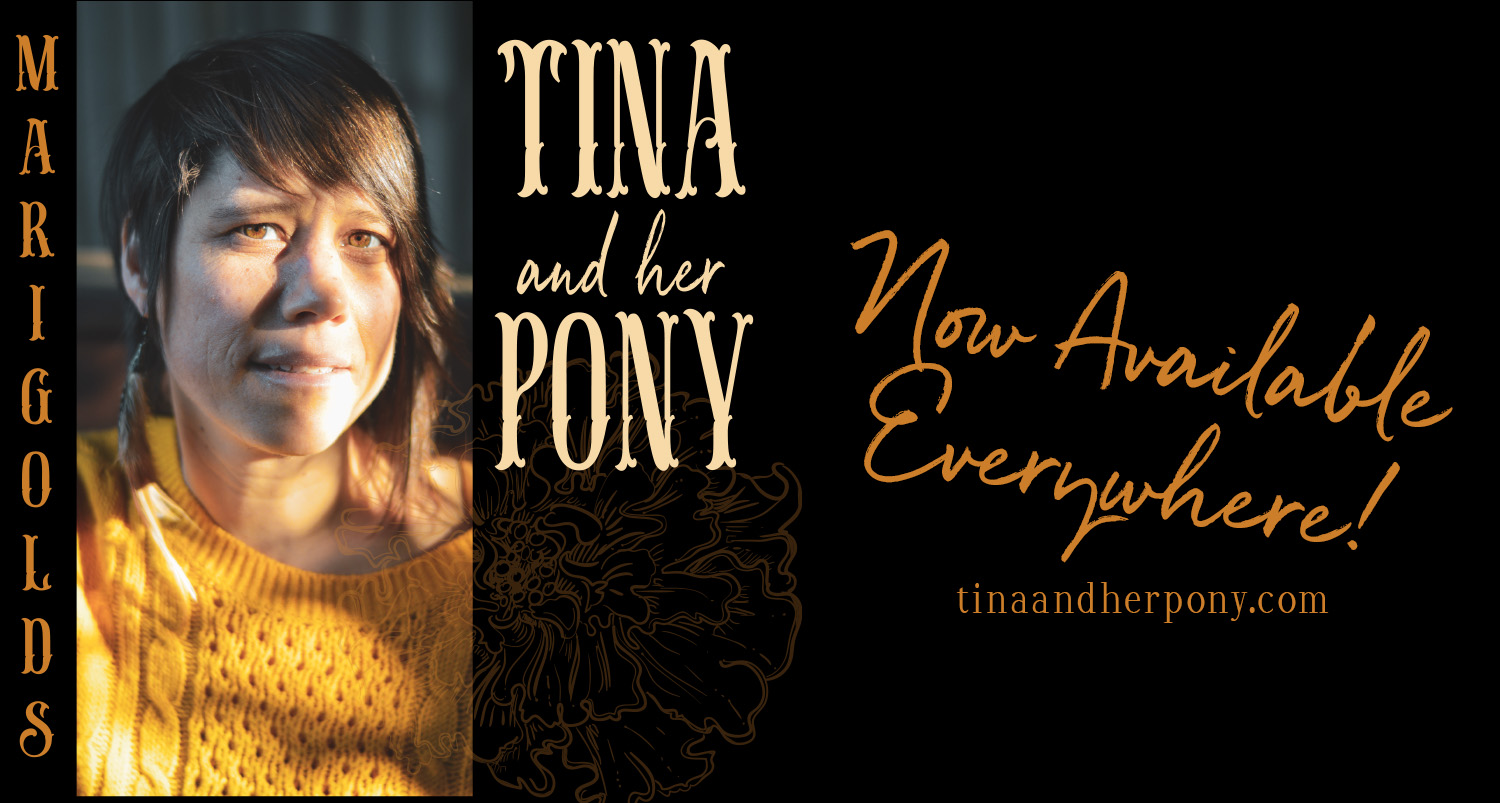 VISIT STORE TO PURCHASE NEW ALBUM "MARIGOLDS" IN VINYL, CD, & DIGITAL,
                                                                                                                 PLUS T-SHIRTS, BANDANAS & MORE
Live Shows:
Thurs April 27 Blue Moon Charlottesville, Virginia 7p
Sat April 29 Greenfield Farmer's Market Greenfield, MA
Sun April 30 House Concert Buckland, MA (email for details)
Tues May 2 Tuesday Market Northampton, MA 2p
Sat May 13 Mal's Marshall, NC 7p
Sat June 10 Power & Light Press Silver City, NM
Sun June 11 Goddess Fest at Unity Taos, NM
Wed June 14 House Concert in Albuquerque, NM (email for details)
Thurs June 15 Founding Fathers Prescott, AZ *w/ Stephy Leigh Griffin 6pm
Fri June 16 The Hitching Post Bisbee, AZ 8p
Sat June 17 The Quarry Bisbee, AZ 8p
Sun June 25 Sierra Nevada Amphitheater Mills River, NC 2p
Fri July 14 Blue Jay Listening Room Jacksonville Beach, FL
Sat July 15 Story & Song Bookstore Fernandina Beach, FL 5p
*more dates coming soon!
"Tina & Her Pony deliver a gentle folk music that inexorably swells into a powerful wave. The songs themselves carry a gentle wisdom that invigorates the listener.  Tina & Her Pony truly commit to a kind of chamber folk that feels as timeless as it does timely." 
– Rachel Cholst, NO DEPRESSION
Indie Appalachian Folk Band Tina and Her Pony began in Asheville, North Carolina, USA in 2010.  Shortly thereafter, the band spent two years holed up in the high desert mountain town of Taos, New Mexico, becoming one of the iconic artist colony's most beloved performing acts.  Tina's fresh full length release "Marigolds" (2023), is an album about the cyclical nature of change, and of death and rebirth as initiation.  It builds on a sturdy foundation, honed on their previous releases Champion (Echo Mountain Recording Studio 2017) and an eponymous debut (2012).  Tina & Her Pony's signature sound has been refined over time with extensive touring spanning the United States, Canada, Europe, the UK and even Central America. In addition to familiar sweet vocal harmonies and smooth, thoughtfully crafted instrumentation on cello, tenor banjo, acoustic guitar and pedal steel, Marigolds dabbles in new directions, adding a hint of pop and soul, with the sounds of electric bass, jazz organ and synth.  Though originally founded as a duo by Tina Collins and Quetzal Jordan, these days the band is centered solely around the songwriting of front woman Tina Collins, a classically trained musician who first toured with her band Over Under Yonder, a five piece that played songs from Collins' debut album Journey Onward (2009).  Collins composed the songs that appear on Journey Onward as she thru-hiked from Maine to Georgia on the Appalachian Trail.  When Over Under Yonder finished touring in 2010, the band reformed as Tina and Her Pony.  Collins' songwriting incorporates complexities in harmony and arrangement that queer the American folk tradition.  Their unique sound draws inspiration from artists such as Gillian Welch, Sarah Jarosz and Watchhouse.
All inquiries: tina@tinaandherpony.com
Photo: Lady in the Mirror Photography